How to Buy Homeschool Curriculum on a Tight Budget by Harriet Yoder
The Watering Place: Come and be Filled with Encouragement for Homeschooling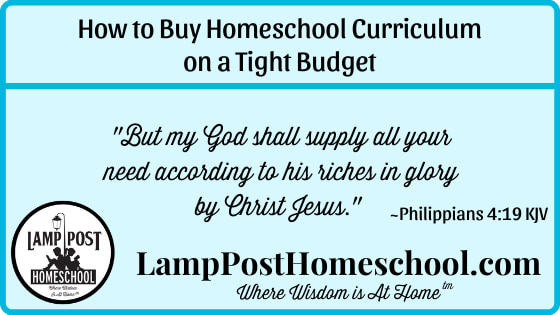 I used a variety of books and methods. I purchased an expensive curriculum for my first daughter and later realized that I could have done it much cheaper, easier, and better with the following suggestions. Fortunately, I sold it and recouped most of the loss! This article can help you get your curriculum when you have a tight budget.
Pray
Pray for wisdom! Pray for wisdom! Pray for wisdom in making your selection. God will show you a way!
"Trust in the Lord with all thine heart; and lean not unto thine own understanding. In all thy ways acknowledge him, and he shall direct thy paths."

Proverbs 3:5,6
Prioritize
Keep in mind that you are making an investment in your children's future when you choose to educate them at home. Consider the importance of this endeavor when you are preparing your budget. It will mean sacrificing both money and time to accomplish this goal.
You Don't Have to Buy Everything All at Once
It is very tempting to want everything you see in the catalog, curriculum fair, or homeschool store right now. However, everything always looks fantastic when you first see it. I suggest you check out all the products; make your wish list; ask other homeschoolers (or check product reviews); and give yourself some time to pray and plan before you make a purchase.
Consider making your purchases over several months. Learn to use one or two new things at a time. Practically speaking, it is difficult to use ten new curriculum products all at once. It takes time to learn a new program. Getting your children into the habit of using something new is part of the challenge, too.
Selective Purchasing
Ask yourself these questions when you are making a curriculum purchase.
Is this an impulse purchase?

Have I researched this product? Compared? Asked other homeschoolers how they rated it? Read reviews?
If I need to, can I use this item for several children?
What is the resale value?
Have I prayed about it?
Save on Shipping
If you are purchasing from a catalog, there are usually minimums on shipping costs. If you can group your purchases from a particular catalog with a friend(s), you can usually cut your shipping costs.
If you live in Pennsylvania you can borrow books from your school district.
Though I prefer decidedly Christian curriculum, in Pennsylvania the school district is required by law to provide textbooks for each child who is "registered". One time our district even threw in a math book for one of ours who wasn't. Make your request in writing to the superintendent. If I couldn't afford my own, I would get the school books, examine them, and immediately return those I didn't want to use. It is a place to start and you do not have to use their curriculum.
If you don't live in Pennsylvania, the price we "pay" for the privilege of getting these books is that Pennsylvania homeschool law is somewhat demanding. We have to keep a daily log and prepare a portfolio for each child each year from age 8 until graduation. Also, in 3rd, 5th, and 8th grades each child must take achievement tests. Every year each child has to be evaluated by a certified teacher (or other qualified evaluator). Then we turn in all this information to the local superintendent. (One good aspect of all this work is that we have a nice portfolio for each year!) Recently, the PA homeschool was amended to ease up on the requirements.
Warning Beware of Cyber/Charter Schools
A warning about cyber/charter schools: They are public school in a pretty box you get to open at home but they are NOT homeschool. My opinion as a veteran homeschooler is, "Don't go back to Egypt!" If what they are doing in public schools isn't working, why do you want to bring it into your home? Let's realize that there is a cost to teaching our children at home; that God will supply all our needs; and that the "free" stuff the "fake homeschool" cyber/charter schools aren't really cost free. Are you willing to sacrifice your child's life to the god of money?
School Teachers or Friendly School Districts
If you have friends that are school teachers you might ask them if they ever have "curriculum samples" they don't need. A science teacher who was retiring gave my sister a pile of science books.
Some school districts are friendly and may loan books to homeschoolers. Check with your local homeschool support groups for information.
Not So Friendly School Districts
It is helpful to find out if your local school district is friendly or not. The best source of information is local homeschoolers and homeschool support groups.
If you have an unfriendly school district, then please consider joining a group such as HSLDA.org for legal protection.
Sharing
Another method for obtaining books is sharing. Ask around. Most of the homeschoolers I know will loan out books if there is a need. Many times one family has a 1st and 3rd grader and another has 2nd and 4th graders. Books pass back and forth!
Used Books versus New Books
Used books are available. Check out garage sales, used bookstores, and used homeschool book distributors. Once, I found handwriting books at one of those stores that sells everything for a dollar! Christian schools will sometimes have used textbook sales or even freebie giveaways!
You might try online auctions. eBay has a large homeschool section at its online auction. (ebay.com) Check past bids for items of interest and compare prices.
Why buy new books?
When I look at the pricing on eBay (sometimes we sell used items there) and do some quick math with the fees, cost of new books, and cost of selling, I found you might do just as well to purchase new books and then sell the used ones on eBay. The difference is that your children get to use new books. This is true when you purchase quality curriculum. The prices are better when you sell the used ones because they are more popular. Also, newer versions get higher bids. It is also easier to find the teacher's edition and tests. We get lots of calls from people looking for parts to book sets from before 2000. They get a great buy on a textbook and then spend hours looking for the parts which are usually no longer available.
I know it costs more to buy new curriculum, but if you use it carefully with your children and sell it yourself, you'll recoup a portion of your money. This way you can have the new curriculum, when you sell it will have money to pay for some of the next year's curriculum.
The Library Method
You can definitely create a science and history curriculum for elementary grades with books from the library. With other subjects, you can check out books on individual topics and study those. For example, in English one topic to be covered is writing letters. Books about writing business or friendly letters are available in different skill levels.
Perhaps a good purchase for the Library Method would be a general book such as What Your Child Needs to Know When by Robin Sampson. It gives a checklist of skills for each grade and subject. You could use a library book to teach each skill.
Library Hint of the Ages: Check out books in multiples of 5 (or whatever number you choose). Record the number of books and the due date or your big wall calendar. Avoid those pesky library fines.
Pray Some More!
If you are having a hard time finding a particular book or choosing a text to use, pray about it. Often God will provide it in a way you never thought possible or He may show you a better way.
"But my God shall supply all your need according to his riches in glory by Christ Jesus."

Philippians 4:19 KJV
Permissions
This is copyrighted material. You are granted permission to copy it for your own use and not for resale. If you wish to use it in your support group newsletter, we ask that you include the following information at the end of the article:
Copyright 2021Wynne and Harriet Yoder, All rights reserved
Lamp Post Homeschool
1741 Tallman Hollow Road
Montoursville, PA 17754
570-435-2804
LampPostHomeschool.com