All You Need to Teach Preschool Electives at Home with Calvert Homeschool Kits
Encourage discovery learning with a flexible program for preschoolers.
Calvert Electives for Preschool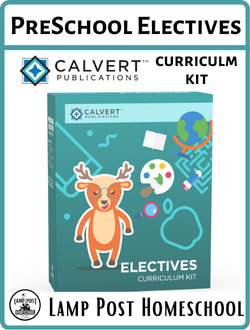 Calvert Preschool Electives
Curriculum Kit
Price $89.95
Use Coupon Code
DiscountAOP for the best discount off List Price.


Calvert Preschool Electives Complete Set
Publisher: Calvert Publications
ISBN-13: 9780740340970
Create meaningful learning experiences with flexible Calvert Preschool Electives. It features:
Hands-on activities
Easy to teach engaging lessons are fun to learn.
Makes this early learning course a favorite of both kids and parents.
Adaptable to a variety of daily schedules and program objectives.
Enrich your child's learning with a colorful student book and a teacher's guide with answer keys, lesson plans, and tips.
Reinforce foundational concepts with a separate resource book with full-color pages of practice.
Grade: Preschool
Price $89.95
Use Coupon Code
DiscountAOP for the best discount
off List Price.


---
Scope and Sequence for Calvert Preschool 9780740340970
Lessons 1-45
Discuss and explore
family relationships
Discover nature
and introduce the
environment
Recognize concepts
of left and right
Define self space
and general space
Discuss air and its
impact on nature
Explore plant life
and its life cycle
Discuss the purpose
of plants for people
and animals
Discuss various
seeds and how
they are used or
consumed
Lessons 46-90
Learn about various
parts of a tree
Explore different
produce and their
classification
Discuss how plants
have medicinal
purposes
Introduce space and
the solar system
Identify the four
seasons
Learn about
astronauts
Discuss seasonal
weather patterns
Discuss
characteristics of
stars and planets
Lessons 91-135
Explore the characteristics of fish
Review the life cycle
of a frog
Discuss pollution
and how it affects
our water supply
and animals
Explore the
characteristics of
birds, reptiles, and
insects
Discuss endangered
birds and the risk of
extinction
Learn the
characteristics
specific to mammals
Classify mammals
and non-mammals
Lessons 136-180
Introduce the
different body
systems
Discuss the five
senses
Discuss the kinds
of tools needed for
different jobs
Discuss the
importance of
following the rules
Introduce natural
laws
Discover and
examine fossils
Discuss the
importance of
friends
Learn about the
importance of
community
More Preschool Complete Kits at Lamp Post Homeschool
**The discount will be taken off the in the shopping cart after you apply the homeschool coupon code. Add in one time for discount on all Calvert curriculum in your shopping cart. Can not be combined with any other coupon codes.