Need A Complete Program? LifePac Grade 8 Sets Work for Homeschooling
The individual subject sets include a Teacher's Guide with some planning information and answers and ten LIFEPAC Student booklets packaged in a product box that is useful for storing the curriculum during the school year.
Use Coupon Code DiscountAOP to get the best available discount off list price on LifePac 8th Grade Curriculum at Lamp Post Homeschool.**
LifePac 8 5-Subject Set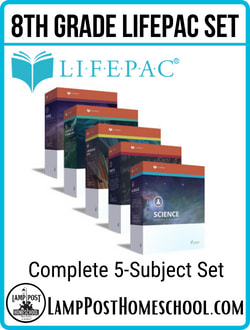 5-Subject LIFEPAC 8 Set
LifePac 8th Grade
Price $468.00
Use Coupon Code
DiscountAOP for the best discount
Off List Price


LifePac Eighth Grade Complete 5-Subject Set
Publisher: Alpha Omega Publications
Item #LCS0800
ISBN-13: 97807403087722
There's a new look and new content for the Lifepac 8th grade. The course is designed to "enhance learning with modern and eye-catching lessons and layouts in the five main subjects. Lifepac Math 8 has additional lessons that challenge pre-algebra students.
Features of LIFEPAC 5-Subject Complete Sets
A complete and coordinated curriculum with 5 subjects.
The student works with the LIFEPAC booklets that are smaller and easier to handle than textbooks.
Each subject has its own teacher's guide with teaching tips and answers to worktext work and tests.
It's a mastery-based Christian worktext curriculum.
Each LIFEPAC Grade 8 5-subject set includes:
You can also purchase the subject kits individually.
Price $468.00
Use Coupon Code
DiscountAOP for the best discount
Off List Price


---
LIFEPAC 8 Individual Subject Kits at Lamp Post Homeschool
If you wish to purchase individual kits or Lifepac booklets for an additional student, here are the links to the different eighth grade subjects:
LIFEPAC® is a registered trademark of Alpha Omega Publications,

LIFEPAC® is a registered trademark of Alpha Omega Publications,
**The discount will be taken off the in the shopping cart after you apply the homeschool coupon code. Add in one time to discount on all Alpha Omega Curriculum including Horizons, LIFEPACs, and Calvert curriculum in your shopping cart. Can not be combined with any other coupon codes.