A Christian-based World History and Literature Course for Grades 5-8
Written in narrative style and illustrated with color photographs, From Adam to Us helps your student connect with history through primary sources, literature, and hands-on activities.
Curriculum Package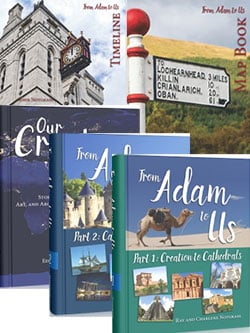 From Adam to Us World History Curriculum Package
ISBN-13: 9781609990831
Included in the Notgrass From Adam to Us World History Set is one of each of the following items.
From Adam to Us World History Part 1  Creation To Cathedrals (Semester 1) 9781609990848
Used in the first semester with seventy-five lessons. Covers history from Creation through the Middle Ages.
From Adam to Us World History Part 2 Castles to Computers (Semester 2) 9781609990855
Has seventy-five lessons in the second semester. Surveys history from the Renaissance to the present.
Our Creative World Historic Documents, Poems, and Stories 9781609990862
A collection of original documents, speeches, poems, and stories from different periods in world history.
Map Book 9781609990879
It is a collection of 43 maps for this study.
Timeline Book 9781609990886
Answer Key 9781609990893
Has answers for the Timeline, Student Workbook, Lesson Review and vocabulary assignments included in the main text.
For the Literature Portion
Additional books are required for the reading portion of the program.
If you are using another literature course that allows you to choose books, these would be excellent choices.
Check your public library or local bookstore for availability.
The Golden Goblet by Eloise Jarvis McGraw
The Fables of Aesop
Bronze Bow by Elizabeth George Speare
A Single Shard by Linda Sue Park
Otto of the Silver Hand by Howard Pyle
The King's Fifth by Scott O'Dell
The Chestry Oak by Kate Seredy
Children of the Storm by Natasha Vins
Madeleine Takes Command by Ethel C. Brill
The Switherby Pilgrims by Eleanor Spence
Free Downloads at the publisher's website:
Grades 5-8
More Notgrass History Courses at Lamp Post Homeschool