Traditional Coverage of American History From the Civil War to Present in a Complete Homeschool Kit for Middle School
Written with a secular perspective, the Houghton Mifflin Harcourt US History: From Civil War to Present Homeschool Package ©2018 includes the Student Text, Online Student Resource Package, and Online Teacher Resource Package. It provides "the tools to create a richer understanding of America's past and its impact today with social studies skills, such as map reading, research, geography, and civic participation integrated throughout the program."
Homeschool Package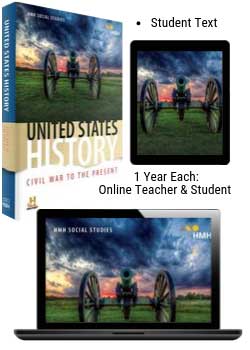 Civil War to Present
2018 HMH United States History
Publisher: Houghton Mifflin Harcourt
ISBN-13: 9780358062189
Grades 6-8
Price $93.60


2018 HMH Social Studies United States History: Civil War to Present Package
The HMH US History: Civil War to Present Homeschool Package ©2018, a secular-based middle school American history curriculum, contains one of each of the following items:
Student Edition Textbook 9780544669017
Offers comprehensive content coverage through an engaging narrative supported by compelling and instructive visuals. Students can access content in their print editions; however, the experience is optimized with the digital version.
Features of the student textbook include:
• Reading Social Studies
• If You Were There / If You Lived There
• History and Geography
• Link to Today
• Social Studies Skills
• Connect Literature to History
• Focus on Writing
• Writing Workshops

•English/Spanish Glossary
• Essential Question
• Biography
• Academic Vocabulary
• Reading Checks
• Lesson and Module Assessments
• Historical Sources
• Literature in History
View 2018 United States History: Civil War to Present Table of Contents.
Hardcover, 632 Pages
Digital Access Subscriptions (1-year) includes one of each item:
(NOTE: The digital access components are not available for individual purchase yet. You need to purchase a Homeschool Kit for each student.)
Online Student Resource Package
The Online Student Edition has interactive digital features that function across operating systems and devices.
• Audio—Provides support for struggling readers and auditory learners. Includes the option for Read-Along Highlighting.
•  Access to Reading Study Guide
• Interactive Features, Maps, and Games
• Highlighting and Note-taking
• HISTORY® Videos
• HMH Current Events
• Interactive Lesson Graphic Organizers
• Document-Based Investigations
• Close Reads Screencasts
• Multimedia Connections
• Map Connections
• Lesson Level Assessments
• Enrichment Activities
• End of Module, Benchmark, and End of Year Assessments
• HMH Field Trips for Google® Expeditions
Online Teacher Resource Package 9780358242970
1. Discover—Quickly access content and search program resources.
2. Plans—Organize resources and create plans.
3. Assignments—Create assignments and track progress of assignments.
4. Data & Reports—Monitor student's daily progress.
NOTE: This is a print and digital homeschool kit.
Digital components come with a 1-year subscription.
You will receive your digital access from hmh_digital_access@hmhco.com.
HMH 2018 United States History: Civil War to Present Table of Contents
1   The Civil War
2   Reconstruction
3   The Industrial Age
4   Immigrants and Urban Life
5   The Progressive Spirit of Reform
6   America as a World Power
7   World War I
8   The Roaring Twenties
9   The Great Depression
10 World War II
11 The Cold War
12 The Vietnam War Years
13 The Civil Rights Movement
14 Searching for Order
15 The Twenty-First Century
Price $93.60


---
Houghton Mifflin Harcourt® and HMH® are registered trademarks of Houghton Mifflin Harcourt.