Traditional Christian Based History Course for 6th Grade
Learn About Ancient Civilizations—Africa, Asia, Europe, and the Americas
Presented with a biblical worldview, Heritage Studies 6 shows how these ancient civilizations influenced today's world.
Strengthen critical thinking skills—through the use of maps, charts, activities, and primary sources.
Components are available in a homeschool kit for one student and one teacher.
Heritage Studies 6 Kit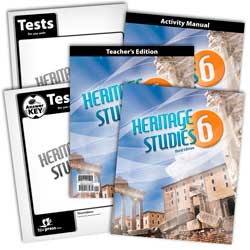 Heritage Studies 6 Homeschool Kit, 3rd Edition
Item #bju511931
The Bob Jones Heritage Studies 6 Kit includes:
Heritage Studies 6 Teacher's Edition with CD (#273383, ISBN-13: 9781591665670) features:

Reduced-size student pages with overprinted answers to exercises.
Lesson objectives, vocabulary, introduction, materials, discussion questions.
Side and bottom margins have teaching helps such as lesson objectives, materials list, discussion questions, and more.
Teacher's Toolkit CD has instructional aids, maps, and visuals to enhance instruction.
The answer key for the Student Activity Manual is also included in the Teacher's Toolkit CD in a printer-friendly format.

Student Text 6 (#233379, ISBN-13: 9781591665656) features:

Maps, graphs, charts, photographs, and illustrations
Resources in the back of the text include primary source documents, an atlas, a gazetteer, a biographical dictionary, and a glossary
Feature pages with more information
Focus questions
165 lessons for this one-year history course

Student Activity Manual 6 (#233429, ISBN-13: 9781591665663) is a consumable workbook with a variety of activities designed to reinforce learning.
Tests Packet (#233395, ISBN-13: 9781591665687) includes a test for every chapter in the student text. A variety of questions such as true-false, multiple choice, fill-in-the-blank, and short essay are included.
Test Answer Key (#233411, ISBN-13: 978159166569781591665694) has answers overprinted in bold font on the student test pages—designed for easy grading.
Grade 6
More Bob Jones Heritage Studies at LampPostHomeschool.com