Learn Math, Schedule Lessons, and Grade Work with Switched-On Pre-Calculus for 12th Grade—A Complete Computer-Based Course

Switched-On Pre-Calculus is a Christian-based course on USB flash drive (Windows only) using mastery learning. Schedule lessons and grade work automatically to make homeschooling easy for the teacher. Based on their LIFEPAC curriculum, this interactive, multimedia learning environment has been updated with more videos and animations, sound clips, and approved web links.
Pre-Calculus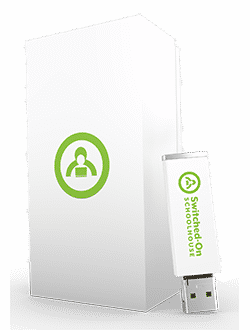 Switched-On Schoolhouse Pre-Calculus Grade 12
Item #uSOS1200M
ISBN-13: 9780740337857
Prepare for Calculus! Give your student an assertive, positive attitude toward calculus with SOS 12th Grade Pre-Calculus!
This course will conquer anxiety with easy-to-understand instructions, visually-appealing lessons, and integrated solution keys available from the SOS Teacher application.
Calculus preparation topics include -Relations and Functions -Trigonometric Functions -Circular Functions and Their Graphs -Identities and Functions of Multiple Angles -Application of Trigonometric Functions Their knowledge of calculus operations will grow as they study inverse trigonometric functions, polar coordinates, quadratic equations, and probability.
Great for preparing students for future courses, SOS 12th Grade Pre-Calculus offers a solid foundation for them to successfully grasp college courses!
Overview, Placement, and System Requirements
Grade 12
More Switched-On Schoolhouse Courses at LampPostHomeschool.com
Horizons®, LIFEPACs®, and Switched-On Schoolhouse® are registered trademarks of Alpha Omega Publications
**The discount will be taken off the in the shopping cart after you apply the homeschool coupon code. Add in one time to discount on all Alpha Omega Curriculum including Horizons, LIFEPACs, and Switched-On Schoolhouse curriculum in your shopping cart. Can not be combined with any other coupon codes and excludes items marked clearance.