A Complete Traditional Christian-Based Reading Program
Learn to read with Christian phonics-based reading kits for grades 2 by Bob Jones University Press.
Features of BJU Press Reading Kits
Learn to read with a phonics-based traditional textbook kit—That includes a Teacher's Edition, Student Worktext, and Readers.
Emphasize reading comprehension, critical thinking skills, and vocabulary enrichment with BJU Press Reading 2.
Read character-building stories and classical literature selections.
Study phonics with a Christian-based reading program.
We are pleased to offer the BJU Press Reading 2 Kits at Lamp Post Homeschool for your convenience in one-stop shopping for your homeschool curriculum needs.
Reading 2 Kit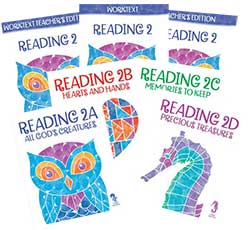 .
BJU Press Reading 2 Homeschool Kit 3rd Ed.
Item #bju501122
The BJU Press Reading 2 Kit for second grade contains all the items necessary to teach Reading 2 including:
Teacher's Edition with CD for Reading 2, 3rd Ed. (#514828) The BJU Press Reading 2 Teacher's Edition has 180 lessons. It features:

Phonics instruction for review
Multi-level discussion questions to promote critical thinking
Suggestions for pre- and post-reading activities to meet multiple learning needs
Uses silent and oral reading to build reading skills
Two BookLinks (Guides and novels for The Treasure of Pelican Cove and Pulling Together)
Book report instructions
The Teacher's Toolkit CD contains additional instructional aids for phonics and literacy skills, bi-quarterly assessments, service word cards, vocabulary context sentences, Student Worktext Answer Key and more.

2A Student Text for Reading 2 All God's Creatures, 3rd Ed. (#278911 ISBN: 9781606821961)

Story types include realistic fiction, fantasy, informational, poetry, fiction, fable, articles, and a Bible account.

2B Student Text for Reading 2 Hearts and Hands, 3rd Ed.  (#278929 ISBN: 9781606821978)

Story types include realistic fiction, poetry, biography, hymn,  drama, and fantasy.

2C Student Text for Reading 2 Memories to Keep, 3rd Ed.  (#294231 ISBN: 9781606826126)

Story types include realistic fiction, historical fiction, tall tale, poetry, folktale, biography, articles, and a Bible account.

2D Student Text for Reading 2 Precious Treasures, 3rd Ed.  (#294249 ISBN: 9781606826133)

Story types include mystery, poetry, articles, realistic fiction, biography, fantasy, historical fiction, fable, article, and a Bible account.

Reading 2 Student Worktext for Reading 2, 3rd Ed. 294256 ISBN: 9781606826140) 

The colorful workbook pages are consumable.
Each student needs a workbook.
Provides activities that focus on specific reading skills
Has phonics teaching with songs
Offers word family practice

 

Worktext Teacher's Edition for Reading 2 (#294264 ISBN: 9781606826157)
Includes copies of the Student Worktext pages with answers overprinted for easy grading. 
Reading for Life CD
Grade 2
More Phonics-based Reading Programs at LampPostHomeschool.com