How to Choose the Best Homeschool Curriculum for Your Family (An Easy to Use FREE Interactive tool!)
It's a question that I answer a lot: how do you choose the best homeschool curriculum? There are many pieces of information that work together to find the best curriculum for your family, and over the years, we have become quite good at "asking the right questions" when families visit our store. We have taken this expertise and created a FREE interactive tool, complete with printable chart. It takes you through the same Q&A I ask if you come to our store to look at homeschool curriculum.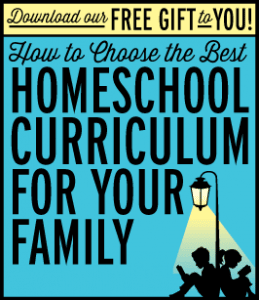 The document is in PDF format, so you'll need the Acrobat Reader on your computer. If you don't already have that, you can get it here. This interactive tool has active links to our curriculum choices so you can read more about each one online.
The final two pages of the tool are reproducible worksheets to fill out as you find homeschool courses you want to consider–one elementary and one secondary. Print as many copies as you need for your children, and you can use it again each year!
We know choosing curriculum is a time-consuming task. It is also one of the most important choices you make as a home educator. This tool will help!
Blessings,
Almost there: please complete this form and click the button below to gain instant access.
Privacy Policy: We hate SPAM and promise to keep your email address safe.